When thinking about engagement rings, and what kinds of stone will come to mind? Some people will choose classic stones and some might prefer the unique colors like emerald, blue sapphire or ruby. Rubies are known as the symbol of love and courage. It is one of the most precious colorful gemstones. Most importantly, they were also mainly used in royalty, because rubies are thought to bring health and love to the wearer. They are made in different shapes and cut in different ways, because of the special color, each one is unique. And as the ancient kings and queens wore ruby stones, a ruby engagement ring is becoming a regal choice. Wearing rubies will make you feel like royalty when look down the hand.
Ruby Engagement Rings Mean
Recently, besides royals and celebrities, normal people have the opportunity to choose ruby as the engagement rings. We have the ruby gemstone which you can get at an affordable price. Besides, known as the stone of nobility, the value of ruby has been exceeded the classic diamond.
Today, we gathered the most gorgeous ruby engagement rings and would like to share the 5 best ones that you won't miss. It is a complete guide for your reference.
5 Best Ruby Engagement Rings
This cocktail ring is designed with little ruby stones around the ring. And the ruby engagement ring certainly makes a statement with its precious ruby stones. With a total stone weight of 23.75ct, it does give off a platinum appearance as well. Really unique look, and it's absolutely stunning.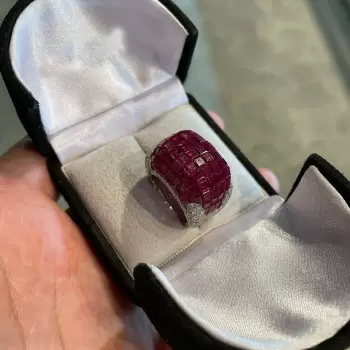 This Oval Cut Ruby Engagement Ring is definitely among the unique set of looks that steers away from the typical designs of engagement rings. And it is made of ruby oval cut sapphire gems with a 4 prong stone setting. The ring has a total center stone weight of 8.03ct and made of the classic 925 sterling silver metal.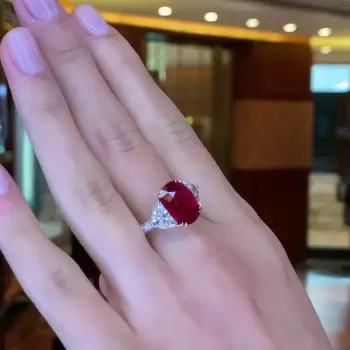 This puts an antique and vintage spin on the classic styles of engagement rings. It is made of white sapphire gems, and the ruby color with an oval stone cut as the primary stone, while the side stones are white with a prong stone setting. And it has a total stone weight of 12ct.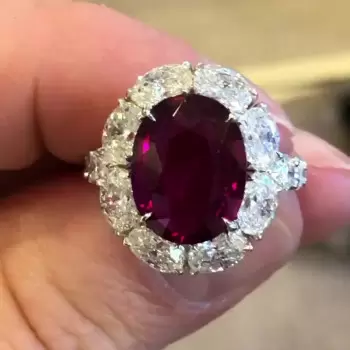 This engagement ring includes an emerald cut ruby stone as the primary stone, and with two side white sapphire stones. It has a total stone weight of 10ct. Although a simple and classic design, the main ruby stone made it look different. We're in love with this gorgeous ring.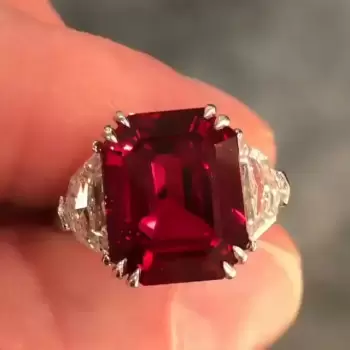 It is a perfect symbol of your true love and commitment. And this ruby gemstone set piece will sit comfortably alongside other bands of the bride. With a total stone weight of 3ct, this cushion cut ruby engagement ring is ideal for a bold bride.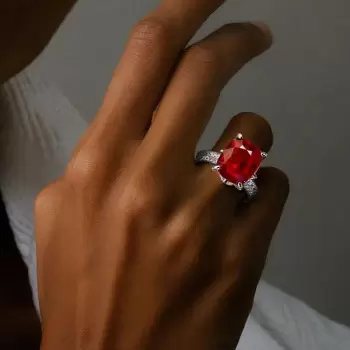 For more ruby engagement rings, please browse our site.