Talking about the colors of the year 2022, the first color people will say is Very Peri. No matter the clothing, wearing or other accessories, the eyes of the fashion icons will focus on this color. And some even dye the hair in Very Peri to make it one of the most exciting colors, so cool. This color presence encourages, personal inventiveness and creativity. On the other side, we must mention another hot color of Basil Green which brings us a calming sense and cozy feeling. And in my opinion, this is the color of spring and summer, especially during the chaotic time, peace, hope and love will make our life meaningful.
In this season, to combine your clothes and wearing, we will usually match the tops, pants, shoes, and even bags, but will normally forget other accessories like earrings. Earring is one of the most important parts of our look. As a professional jewelry company, we will definitely recommend the fashion-related earrings to make you really special.  
Earrings Recommend
Recently, we have several new arrivals and hot sells which we would like to share.  They are all Emerald Drop Earrings. The first one is Octagon-shaped Emerald Green Drop Earrings. The shape of stone is unique and the design is a bit different with other regular styles. The front is the whole stone, and on the back of the earrings, there will be some tiny stones attached. This is our special idea on the design. Some customers like it very much, saying that surprised them a lot. So wearing the earrings will make you pleased, just as an elegant princess.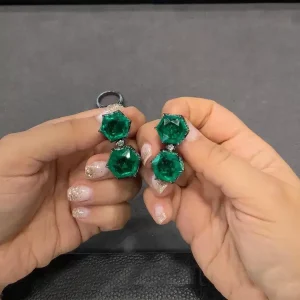 The other one is a cushion cut Emerald Drop Earring. Although the design and cut are quite normal, the stone color of emerald & White Sapphire made the earrings extremely pretty. Worth to have one pair to match your clothing. You won't be disappointed, and you will get lots of praise… oh my gosh, so beautiful.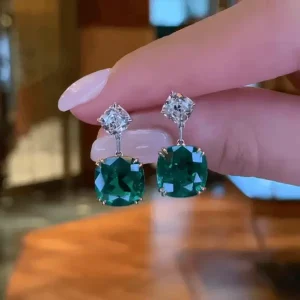 There are too many Emerald Drop Earrings we can recommend. Every pretty girl must have one thing of Basil Green related in the year of 2022 to get a fresh, comfortable and different year. And you deserve to shine, to be fashion.