When talking about Sapphire, what will come into your mind? Most people may think of blue gemstones. And have you heard of white sapphire? The best-known color for sapphires is blue. But there are several different colors of sapphires because of chemical properties of the stone's composition, and one of them is white sapphire.
White Sapphire & Diamond
Because of similar look and color, a white sapphire can offer a beautiful look just like diamond. But they do have obvious differences in the durability. Although sapphire is not as brilliant as diamond, it suits for everyday jewelry wear. Most importantly, white sapphire is more affordable, so it becomes a stunning choice like engagement or wedding rings.  
Besides the price, the other one of the biggest differences between two gems is appearance. Diamond has unique brilliance but the white sapphire now really sparkles as well. They just have slight visual differences, people almost cannot tell if it is a true diamond when looking at it. So give a try of a white sapphire and it has its own beauty.
1. Three-Stone Emerald Cut White Sapphire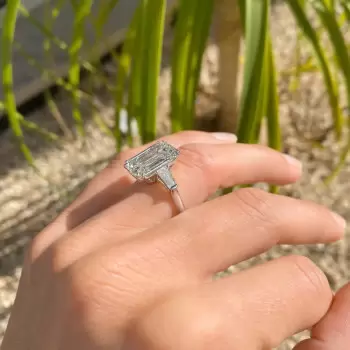 Classic design defines this delicate three stone setting, which features a thin precious metal band that towards an emerald cut center white sapphire.
2. Pear Cut White Sapphire Ring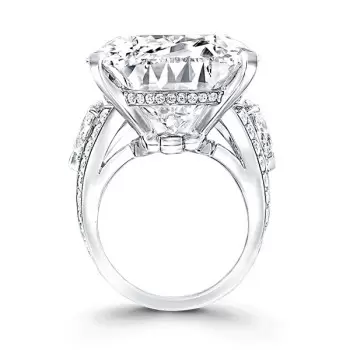 This elegant ring features with a center white sapphire of pear-shaped gem. And a dazzling cluster of stone that rest upon the shoulders of the gently tapered band. It is one of the best sellers.
3. Oval Cut Lab Created Sapphire Ring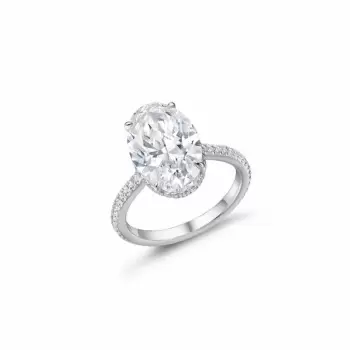 When highlighting a oval cut gemstone, you can't go wrong with a classic design. This classic four-prong setting looks really delicate and comfortable.
4. Halo Radiant Cut White Sapphire 3pcs Ring Set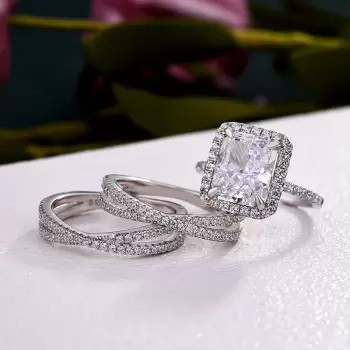 This sparkling halo 3 pcs ring set crafted in sterling silver. The spectacular design showcases a radiant-cut center stone wrapped in halo cushion-cut shaped frames. Captivating with stones and a brilliant buffed luster, this scintillating set is the look she's waited for all her life.
5. Three-stone Under Halo Wedding Band in Gold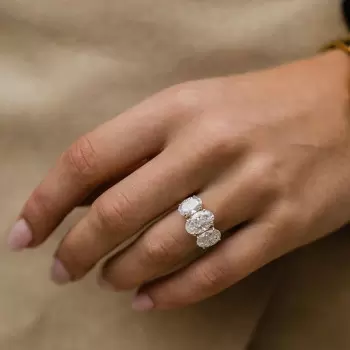 This eternity ring features three different size oval-cut white sapphire as the primary stone, double under halo of the round-cut white gems to enhance the luster of the entire ring. Three-stone design represents the past, the present, and the future—the entire journey of the love. Ideal for wedding ring, engagement ring and daily wearing.
We shared the top white sapphire rings, there must be the one you like the most. Pick it out and share with us. Believe that you are always shining.